Only verified 4shared users, who are logged in their accounts, can download files shared by other users with our
Search
engine. Therefore, we would strongly recommend you to become a registered 4shared member to get your own 4shared account, where you will be able:
To delete the uploaded file,
To reduce a number of users who can download it to a couple of closest friends of yours,
To create a photo album or add any comments to your files.
All these and much more will be at your disposal as soon as you become a registered 4shared member. It is a snap! Besides, it is for free!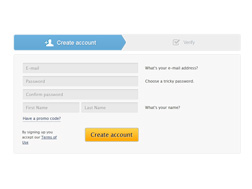 Click on the "Sign up" button on the menu bar, and fill in a simple registration form. Just let us know your email address and your password, and select a feature plan that you are interested in. It could be a free plan or Premium subscription.
In a short time after completing and sending the form you will receive an email notification that your account has been created, and your virtual drive has been set up.
Sign in to your personal account using the login and the password that you have received by email.
You can manage your account by changing your personal information, your password and publishing name in the "My Account" form. Also, you can check your account statistics, such as used and free space, and the outcome traffic.
Depending on the chosen plan at least
15 GB
of the virtual space is yours now. It's time to go to the next step and enjoy plenty of 4shared features!
Tip. Please pay attention that your account and all your files will be removed from 4shared if you haven't logged on your account during 180 days.