4shared is not only a capacious storage but also a perfect place where you can enjoy files stored by yourself or shared with you by other people.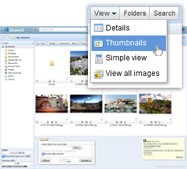 If you like to take photos you should be able to collect and classify them, look through your shots and share them with others at any time. 4shared is glad to offer you a simple but very effective solution for creating your own digital photo albums.
To create a photo album open the folder that contains photos that you are going to include into your photo album. Click on the "
Thumbnails
" button on the toolbar to make the photos shown in the preview mode. If you decide to disable the photo album, click on the "
Thumbnails
" button once again. You do not need to download a video or audio file if only you are not going to store it on your PC. 4shared offers you a much easier way to enjoy media files by streaming them online.
To play audio/video file online you should click on the "
Stream media file
" icon next to the name of the file. The small preview window will be opened. If you decide to download any file from 4shared it will not be difficult to do. Just click on the "
Download
" icon opposite the name of the file you are going to download. Besides, 4 shared offers a special feature "
Direct link
", which allows downloading files using a download manager (FlashGet, GetRight, ReGet, etc.). Click on the name of a file to get to the file info page. In the "
Direct link
" field copy a link which allows you to download the file and then paste it to the corresponding field of your download manager.
Tip. "Direct link" feature is available only for subscribers of the Premium Plan.